As with most art supplies, you get what you pay for in the alcohol marker world, so let me give you some general advice on how to find the best alcohol markers for you:
It's all about the tips! Most artists agree that having a good brush tip makes blending colors and laying down a fine stroke much easier. Unfortunately, most markers with brush tips are a little more expensive and usually any economy brands that have brush tips don't last very long (the tips tend to fray or collapse over time).
Good selection of colors! Creating blends and color transitions is much easier if you have good light/medium/dark combinations. Creating a transition between a light and a dark color is possible (I will demonstrate this in our workshops) but can be tricky. For this reason, most artists enjoy having a wide variety of colors to pull from. This is why you will often find alcohol markers sold in large sets.
Extra, extras! Some marker systems come with refills, tip replacements, cases, airbrush systems, and the ability to buy single markers (open stock) to replace or add to your collection. All of this is great if you plan to use your markers A LOT…and I mean A LOT. Most markers (even the economy type) have a pretty long life and you can get a lot of coloring out of them before ever needing a refil or replacement. A decent economy set will probably be more than adequate for most hobby colorists.
Alcohol inks. Is there truly a difference from brand to brand and can you use the different brands together? I get these questions all the time. I do think there is a slight formula difference from brand to brand…you can tell this just from smelling the markers. But…there doesn't seem to be one miracle brand that works head over heels better than all the others (at least this has been my experience). I have also had great success using different brand markers together. Remember…all alcohol markers are NOT lightfast (this means you should never display your work in direct sunlight or it will fade).
Sharpie/Bic/Office alcohol markers. I love coloring with this type of marker and I even have a full playlist on my YouTube channel dedicated to how to get some fun coloring effects with them. The biggest downside to these markers are their stumpy bullet tip which makes blending a challenge (not impossible…I show that in my videos). The ultra fine point markers are fantastic for those coloring pages with itsy bitsy details! In the past, these markers have been the most economical choice, but it has been my experience that sometimes the price of these are very similar to some of the sets I am about to suggest.
As your love for these tools grow, you may want to invest in a marker system such as Copic, Spectrum Noir, or Prismacolor (just to name a few). I don't think there is a "wrong" system to pick. It will depend on your budget, the kind of brush tip you prefer, and the "extras" each system offers that excite you. I suggest purchasing a small set of each (or at least a light/medium/dark of one color family) to try them before investing in one system. Everyone is different, and you may like the feel and experience of one marker system over another…Copic may not be the ultimate system for you!!! For example…I LOVE how juicy the Prismacolor markers are, and their brush tip is unlike any others I have experienced…much more flexible.
Now that I have given you some broad advice. I am going to give you links to 3 different alcohol marker sets that I have personally used and would recommend. I have chosen to steer clear of the obvious high end markers (Copic, Prismacolor, etc.) because the vast majority of us can't afford these.
Caliart 100 Colors Artist Alcohol Based Markers Dual Tip Art Markers
A great beginner set with a wide variety of colors (no brush tip.)
Studio 71, Dual Tip, 48 Pieces Alcohol-Based Marker Set, Multicolor
A decent economy set with a brush tip (I have had some issues with the brush tips, but that is to be expected in this price range and only occurred as the ink was running low.) See my full Studio 71 review here: https://www.coloringbliss.com/studio-71-dual-tip-markers/

Additional open stock markers can be purchased for this set! I like the following site for buying the single markers and if you're patient, they go on sale periodically: https://www.consumercrafts.com
Blick Studio Brush Markers
My favorite mid-range price brush tip marker system (many artists agree that this system is one of the best copic alternatives.)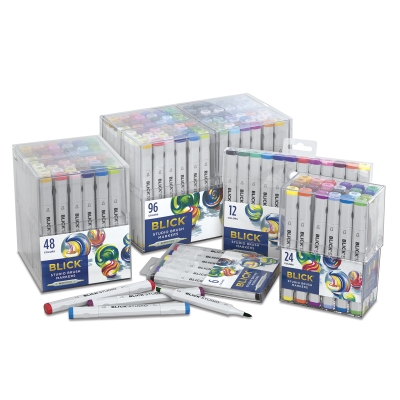 There are MANY other options out there. Ohuhu, ColorIt, Bianyo, Chameleon, Shuttle Art, Artify, Touchnew, Spectrum Noir, and more! I hope that my general tips above will help guide you. Try asking in our Facebook group for advice from other colorists about brands you may be considering.
Have fun shopping, and we hope to see you at our alcohol marker coloring workshops!
Click here to learn more about our fun coloring workshops: https://www.coloringbliss.com/bliss-partner-downloads/